If you have ever wondered what to get your new neighbor, or real estate client after they move into their new home, look no further. Southern E-Scentuals has a variety of handmade items to fill a memorable gift basket. Southern E-Scentuals is located in Flowery Branch, Georgia.
Welcome to Georgia Couples' Housewarming set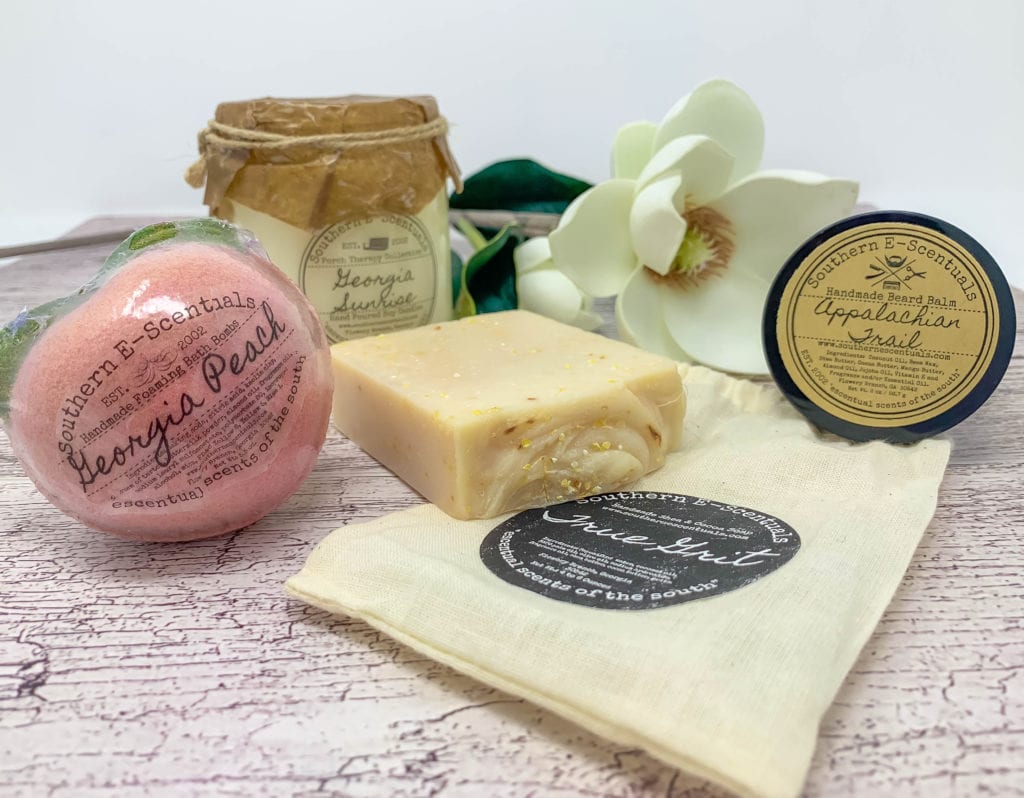 The company has a wide variety of scents and types of items for sale; from candles to beard balm. You can turn your new home's bathroom into your own, personal Georgian spa. With scent names like "Appalachian Trail" and "Georgia Sunrise," it is easy to get lost in thinking about the beauty of our state.
We ordered a few of the company's products as shown above. We put the items together to create a beautiful "Welcome to Georgia" couples' housewarming package. It is available exclusively to our agents for purchase at our convenient office gift corner. The collection is perfect for clients as a closing gift.
Georgia Sunrise Soy Candle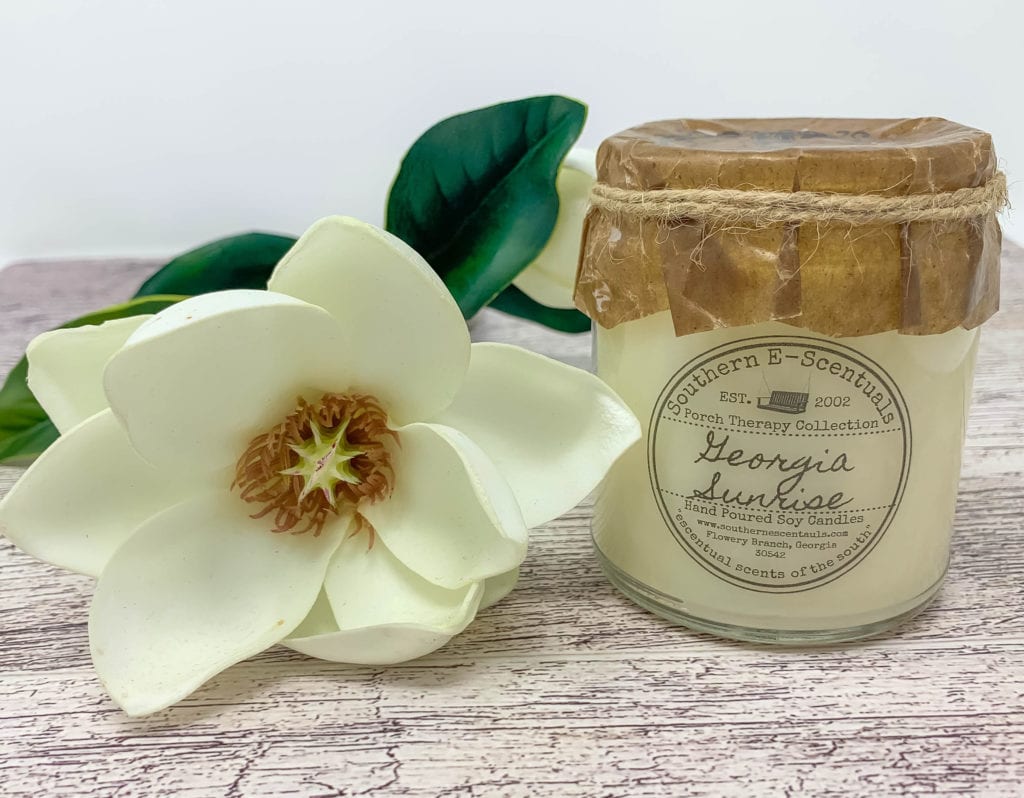 The Georgia Sunrise soy candle is just the right size at 8 ounces. The candle is in a clean glass jar, with a rustic waxed paper covering on the top. All if this is neatly tied together with decorative twine. This candle will burn for 30-35 hours to fill the room with a smell reminiscent of blooming gardenias and honeysuckle.
True Grit Shea and Cocoa Butter Soap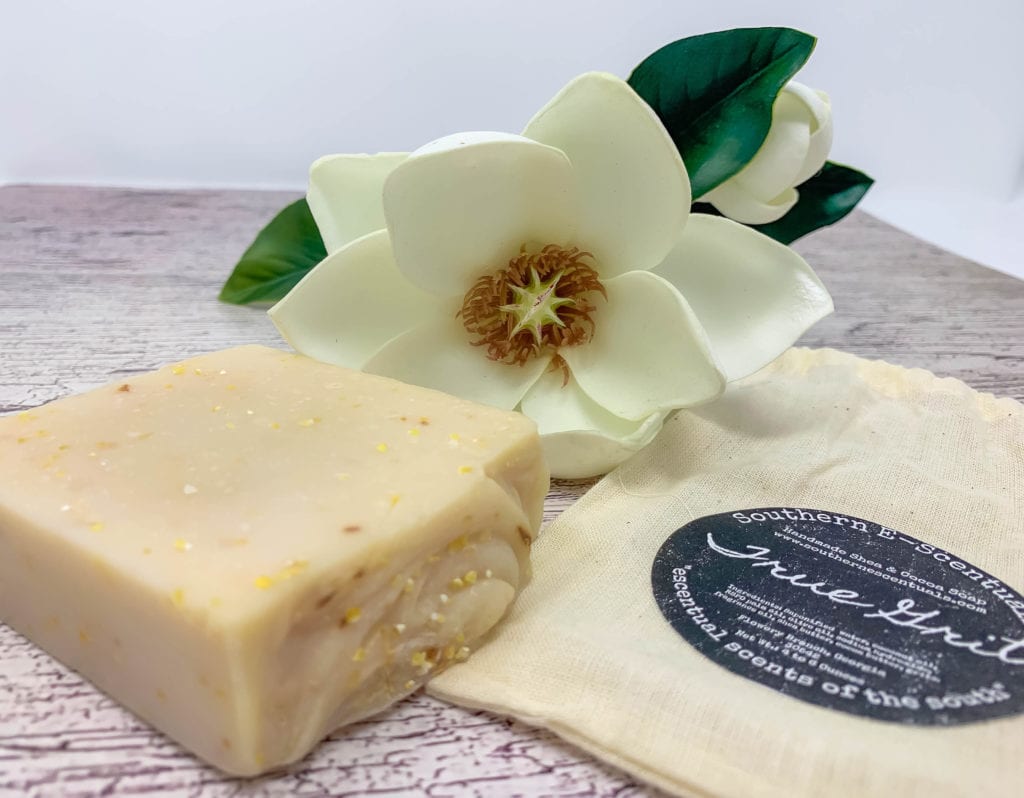 The True Grit shea and cocoa soap is an ingenious use of our local delicacy. We love grits so much in Georgia, we bathe with them. The soap is blended together with yellow grits for one of the best exfoliating experiences I have ever had. Who knew that this cherished ingredient could also be a wonder in the shower? Try it for yourself, and you'll feel smooth and polished afterwards. The True Grit scent reminds me of a mellow, creamy smell with a hint of vanilla.
Georgia Peach Foaming Bath Bomb
Bath bombs have gained popularity in the past couple of years. This Georgia Peach bath bomb is one of my favorites. As soon as you open the box in which it is sent, the smell of sweet, ripe peaches fills the room. The bath bomb itself is well-made into a compact peach shape with beautiful coloring to resemble the fruit synonymous with our state. Drop it in your new home's bath and you'll feel peachy, too.
Appalachian Trail Beard Balm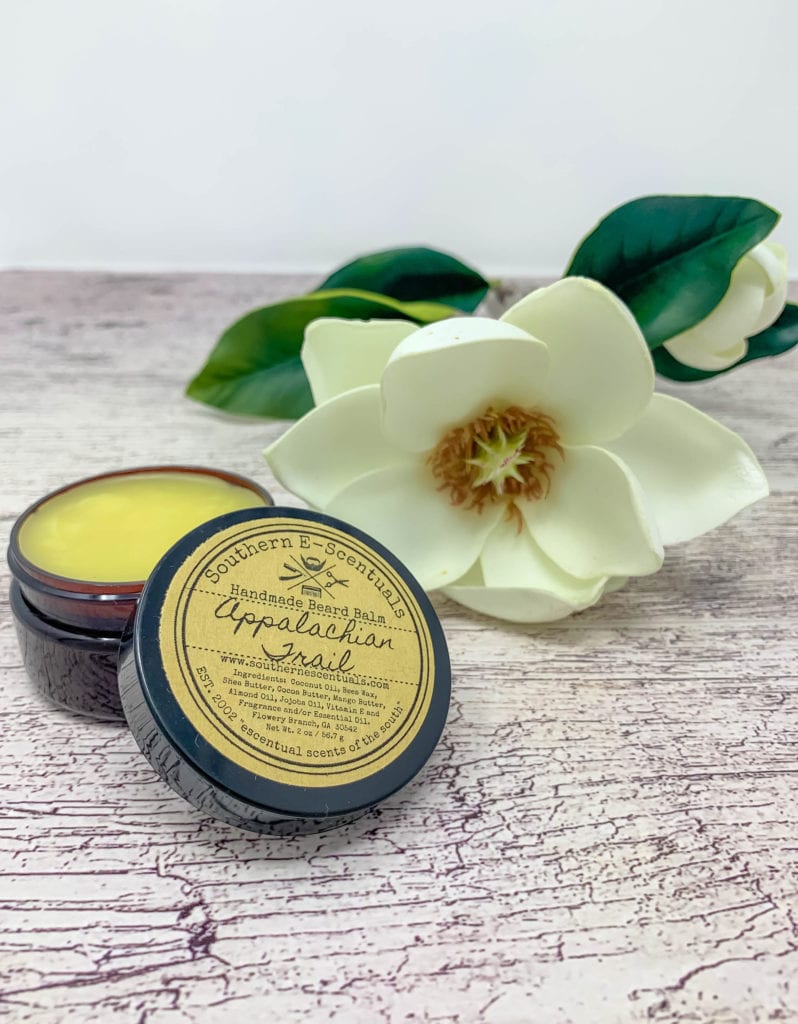 I feel as though men are much-forgotten when it comes to spa and bath products. I'm thankful that Southern E-Scentuals remembers that men love to be pampered, too. The company offers beard balm in several scents, including this one called "Appalachian Trail." Let me tell you, I love this smell. The balm scent reminds me of clean, new leather.
Sellect Realty Gift Corner
Sellect Realty agents can visit our office gift corner at any time the office is open to purchase a quick closing gift or housewarming gift to give to your clients. Our gift corner takes the stress out of having to think about, gather, order, and wait on a thoughtful gift to put together, letting you focus on growing your real estate career.
About Sellect Realty
Sellect Realty is a full-service real estate company located in Marietta, Georgia. We serve all of the Greater Metro Atlanta Area with home buying, home selling, and agent careers. Contact us to learn more about working with or joining our independent real estate company.