Architectural and home lovers are surely excited as this iconic homes from the 1939 movie adaptation of Margaret Mitchell's novel is making big news. Margaret Mitchell is a celebrated author from Atlanta, Georgia, whose novel focuses on the Antebellum South, and the effects that the Civil War had on the inhabitants in the South. Mitchell wrote such strong characters and detailed imagery, that these homes have a special place in every Georgian's heart.
Twelve Oaks Movie Set Inspiration
This very home was featured in the Atlanta Journal, the main newspaper for the Atlanta area at the time in which Margaret Mitchell lived. Although she did not include drawings in her actual novel, she carefully cut out the image of this 1836 Covington house, and sent it to the producers of the Gone with the Wind in California. She did so to show them example of what she thought Twelve Oaks to be, and the producers honored her vision with a striking likeness to this house on set. Do you see the similarities in the movie version and this real mansion?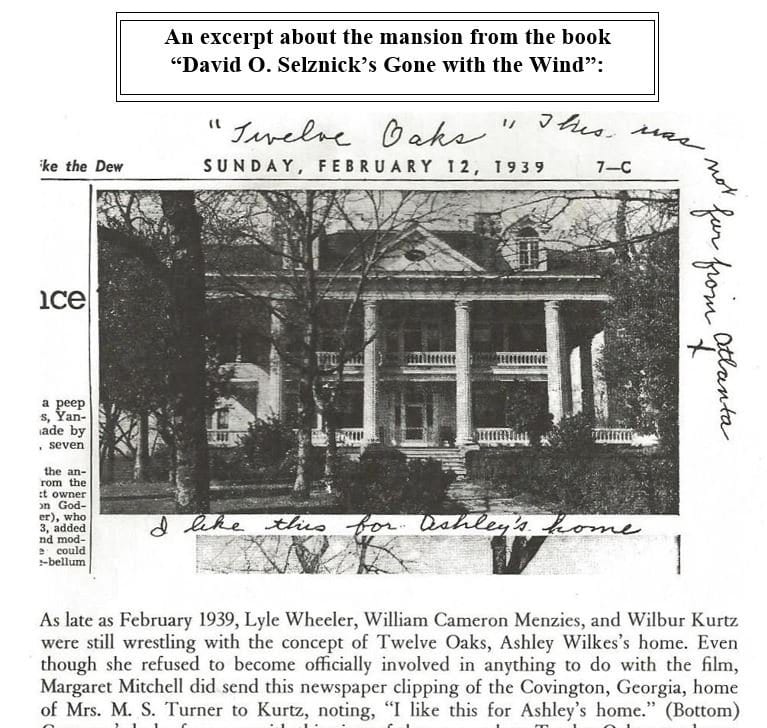 Twelve Oaks on Auction
From July 4, 2019, to July 25, 2019, anyone with a cool $1 million can start to bid on purchasing this very house at 2176 Monticello Street SW, in Covington, Georgia. Target Auction is auctioning off the current bed and breakfast property to the highest bidder. According to Target Auction, the home is named one of Southern Living's Best of the South, and is also a part of TripAdvisor's Hall of Fame.
Inside Twelve Oaks
Now, you're probably itching to see more photos of the mansion itself. Below are some photographs from Target Auction that show how beautifully decorated, modified, and well-kept the property is for an 1836 building. Feast your eyes on the following photos and transport back in time with beautiful Georgia homebuilding craftsmanship.
Sellect Realty: find your own twelve oaks
Whether you are looking for your own home to call "Twelve Oaks," or not, Sellect Realty is here to help you in finding your dream home worthy of your own life's story. Contact us to start your search. What would you call your home if it were to have a name? Comment below with what you would call it.